Have you heard the news? MAC has a new foundation for Fall 2015! I saw it on their website a few days ago and started happy dancing in my mind. I was still in bed, after all.
Introducing MAC Studio Waterweight Foundation SPF 30!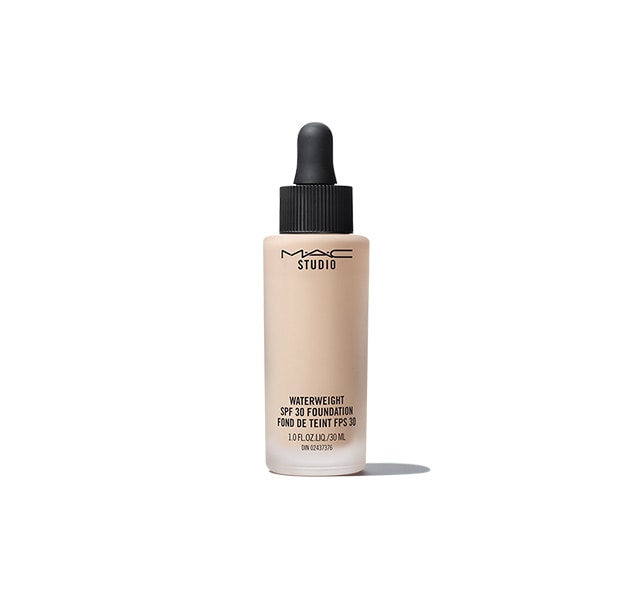 image from https://www.maccosmetics.com/product/13847/37094/Products/Makeup/Face/Foundation/Studio-Waterweight-SPF-30-Foundation
MAC describes this new gem as:
"Introducing an innovative foundation that delivers colour in an ultra-fluid, elastic gel- serum formula. With a virtually weightless feel, this hydrating formula is extraordinarily comfortable, lasting for hours. With stay-true colour and sheer medium buildable coverage, it softly blurs imperfections such as pores and fine lines. The unique dropper provides you with a drop of perfection. Use the new 196 Slanted Flat Top Foundation Brush for a naturally flawless finish."
Oooo! A new brush too! As if I need any more brushes. (Or foundation, for that matter.)
I'm excited for the foundation, and so is my combination-oily skin. I'm constantly testing out and researching new foundations that could both hydrate and keep my shiny skin at least somewhat matte.
This type of foundation formula certainly isn't new. I've been seeing "water" foundations for some time now, but even more so recently. Tarte has it's new Rainforest of The Sea Foundation (available at QVC only right now), and Smashbox has its Camera Ready BB Water Foundation. I haven't tried either of these out, but as a MAC foundation fan, I may have to dole out the $33.
There are 25 shades, both NC and NW. Wait a second… where are the shades for the neutral toned guys and gals? I wear N3 in Face and Body and assume I might need the same shade in Waterweight, but I won't know until I stop by the counter later this week. On that note, I wonder how the formula will compare to my beloved Face and Body Foundation. Though F&B is marketed as a sheer, natural finish, I have a feeling they may be similar.
What do you think about this new foundation? Have you tried any water based foundations before?